Today, business apps are cloud based, and data is moved to data silos. SaaS companies don't provide direct access to databases for a variety of reasons, from security to competition. This means that data analysts can no longer work directly with data. Instead, there is a lot of work that must be done before the data can be evaluated. This includes manual data export and manual data merging from various sources. These steps have dramatically slowed down data analysis.


Existing data pipeline model

Existing tools help only at either end of this data processing pipeline. To integrate them into a fully operable pipeline, you need data engineers. This is a costly undertaking that adds overhead to your business.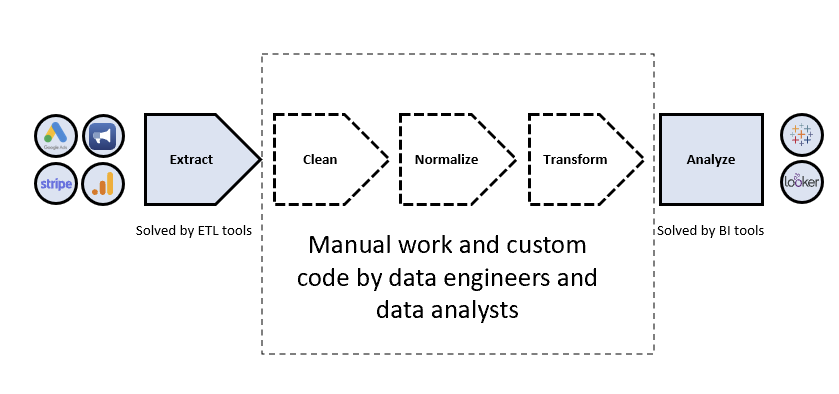 Our solution builds a data pipeline without bringing in any technical experts, which saves both money and time.


To develop this solution, we analyzed what data engineers do for marketing professionals:

Download data from third party platforms.
Aggregate data so that business metrics can be calculated (the most difficult task)
Clean data and check it for errors
Upload the final report to a BI system for analysis
Download detailed metrics (at campaign/client level) into an operating application (CRM or ad network dashboard)
Simplifying the process

It is time for a new system data collection – one that simplifies this process and makes it easy even for non-technical people to gather and analyze ROI on their spend, even at a granular level.